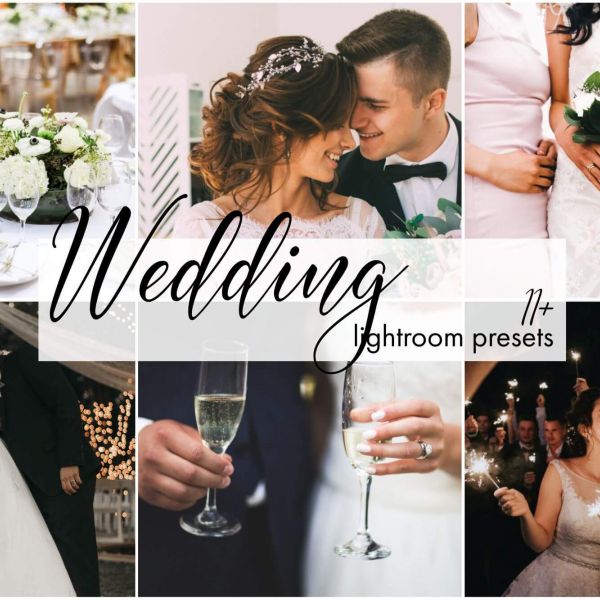 11 elegant wedding lightroom presets
This is your beautiful wedding or are you only a guest – be sure to keep this collection to yourself, it will definitely come in handy for you! Designers have developed these presets for any style and season of the event, so you can not wait for frames from your photographer, but immediately share them on your Instagram!
1. GORGEOUS WEDDING PRESET


A classic wedding preset that will suit you regardless of the style of your holiday! A light shade of champagne and a deep dark will create the necessary contrast to emphasize the most important thing – you!
2. BEIGE PRESET LR


A discreet beige preset specifically for eco-friendly and boho-style weddings! All shades of nature will remain natural with such a treatment, and the skin will acquire a powdery tint.
3. MARMUROKPH GREEN PRESET


A preset for those whose festivities take place surrounded by greenery! All shades are beautiful from yellow and light green to deep emerald.
4. MARMUROKPH BLUE


Perfect pure white preset. Suitable for both Chanel-style weddings and Shabby-chic weddings. Your dress will shine on all the photos!
5. PRESET WINTER TALE


This is a preset for your winter fairy tale. No cold shades for those who love warms.
6. WEDDING PRESET FOR PHONE


An excellent preset for autumn and summer wedding photos. Light gold dust ideally falls both on nature and on a beautiful hall.
7. WHITE BEACH PRESET


Dreaming of a beach wedding? This preset is for you! Blue sky, soft pink flowers, white dress. The incredible lightness of the sea breeze for your magical wedding photo.
8. WEDDING PRESET FOR PHONE


Bright preset for bright brides. We made the greens a bit juicier, and added shine to the skin. This is a classic version that will not leave anyone indifferent.
9. FOGgy AUTUMN PRESET FOR PHONE


A very unusual option for your wedding photo. No one will definitely have such photos. Real Iceland with wild winds, mysterious fogs and low clouds. Very atmospheric and strong!
10. COAST – PRESET FOR MOBILE


Delicate sunset preset for evening summer weddings. Light tan and dark water will create a special mood.
11. SUMMER HOLIDAY PRESET


Preset for summer weddings with plentiful greens. Even if you dreamed about a wedding in a tropical forest, with this preset the photos will turn out just like that. Pay attention to the beautiful white in this version.
By the way, these presets are also great for a release evening or a great family holiday! Even more free presets in our catalog.