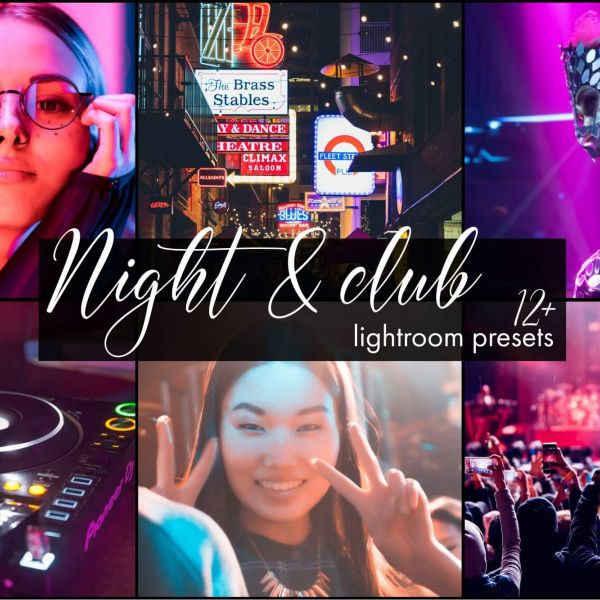 12 night and club lightroom presets
12 night and club lightroom presets
Often photographs taken late at night or they don't look very good at night… But what if you really want to share frames from the last party? Or do you have a dark profile and you just need stylish night photos? We solved this problem and collected for you 12 presets for evening and night photos. Just download what you like for free and edit your photos.
1. NIGHT CAROUSELES PRESET


A dark, non-contrasting preset with muted color. Looks very good in photographs with water and light.
2. HOUSE PARTY PRESET


A cool party preset that preserves brilliance! Deep dark and contrasting light – help you sparkle!
3. NEON PRESET


Preset for lovers of neon signs and bright colors. With this preset, even a home photo can add the desired mood. By the way, skin color does not suffer!
4. GOLD MOOD PRESET


Feel like the heroine of Dior ads. The real golden luxury of Los Angeles in your photos.
5. CLOUD PRESET


Do you like late walks and want to share it with subscribers? This preset is for you! The atmosphere of the sky before a thunderstorm will give your photo the necessary tension.
6. PRESET OLD HOLLYWOOD


Even a home party with girlfriends can look like a real Hollywood party, on which you are the main star!
7. NIGHT NEW YORK PRESET


A dark preset with active color and skin highlighting will take you to Times Square. Be sure to try this preset with a different source photo, you will definitely be satisfied with the result.
8. LUXURY TIL ORANGE


A stylish combination of blue and orange is always in fashion. We just adapted it for night shots, so now you can enjoy the result.
9. MOSCOW WINTER PRESET


An evening preset that creates the mood of winter twilight. We enhanced the color of the lanterns, and made the darker colors lighter. It turned out a very stylish combination!
10. GREAT PRESET – DREAM


Preset for true dreamers who walk in the summer all night long! It does not matter what the background is, forest, city or water. With this preset you will catch the right mood. By the way, it is great for photography with garlands and lights. Give it a try!
11. NIGHT PRESET


A night preset with a contrasting color for those who like to walk under the lantern. With this preset, your skin will acquire a porcelain shine and a beautiful relief. Your cheekbones have never looked so good!
12. BLACK – WHITE PRESET


A true classic of photography! If your feed does not yet have a black and white photo, urgently download this preset and test it on different frames! With it, any of your photos will be like from the VOGUE page.
On our the site you will find free presets for any occasion, under any feed and mood. Do not be afraid to experiment!