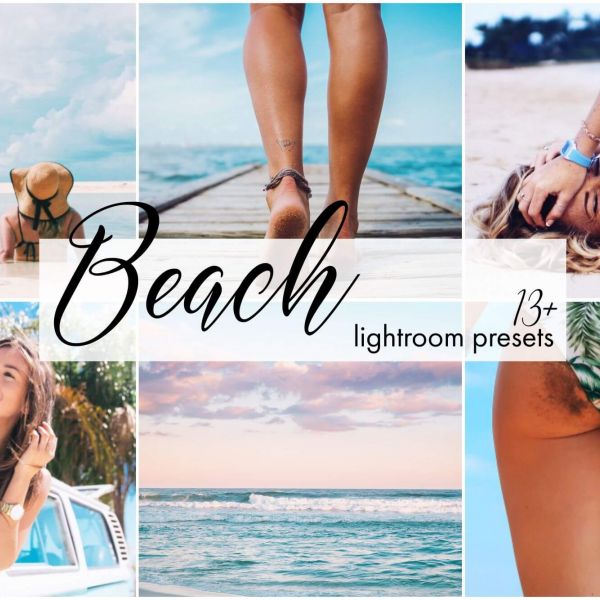 13 cool beach lightroom presets
Moments on a snow-white beach are what I definitely want to share, so we picked up for you 13 cool free presets for beach photos. While you decorate your beaches, your photos will decorate your ribbon.
1. CUTE BEACH PRESET


Everything is good in this preset – muted turquoise with golden brown. Even if there is no sea in your photo, the mood of the photo with this preset will still be beach.
2. BEACH IN BALI PRESET


Lush tropical greens, clear water, light tan – all this will give you BALI preset.
3. RED PRESET


The contrasting shadows on this preset will make your subscribers feel the tropical heat, and the bright red accent will add peppercorns.
4. MERMAID PRESET


If you were looking for the perfect preset for seawater – you just found it! It will make it sunny any day at sea.
5. ROAD TO BALI PRESET


A juicy summer preset with an emphasis on greens! If your photo has palm trees, be sure to try this preset!
6. POOL PRESET


Photos from the pool are a special luxury that you can afford. By the way, in addition to beautiful water, we added a light tan, we think you will appreciate it.
7. MIAMI PRESET


Well, a very hot preset for summer photos. A lot of gold for your skin=a lot of likes for your photos!
8. PRESET SEA WAVES


How about a stylish beach retro? Light noise will add zest, and muted shades will tell you about discreet luxury.
9. SEASIDE MOBILE PRESET


A preset with very blue but natural water and a sandy skin tone can be your favorite.
10. CHIC TRAVEL PRESET


A very stylish travel preset that perfectly conveys the mood of an uninhabited island. With it, a fresh sea breeze will appear on your photos from which it will take your breath away.
11. WHITE SAND PRESET


Delicate, white and hot! We are talking about sand, on your beach! What did you think about? 🙂
12. DREAM COAST PRESET


Here it is – the vacation of your dreams! Turquoise sea, blue sky, black cliffs and a white yacht!
13. MY LOVE PRESET


A true holiday romance for your photos. This preset is ideal for evening photos. He will emphasize your tan and convey your mood.
If you are just planning on vacation, keep our selection and try it all. Be sure to tag us on your photos in social networks and maybe you will be on our next selections!