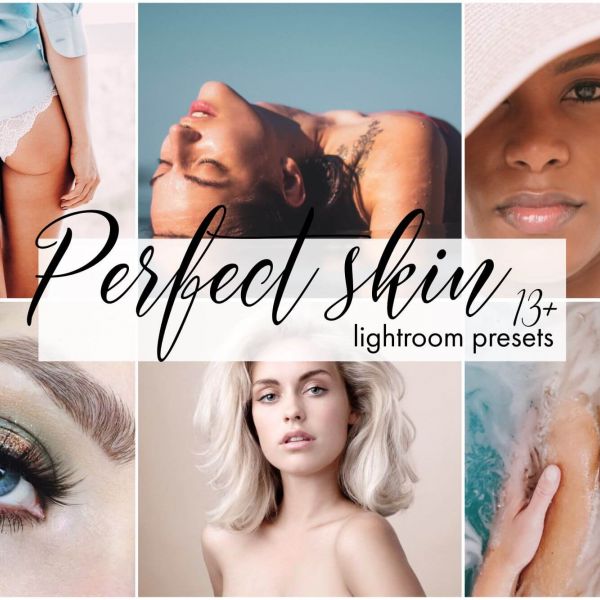 13+ presets for perfect skin
Are you a tender blonde or a burning brunette ? We have provided for everything! In this article, we have collected 13+ of the best lightroom presets for perfect skin in your photos. No more dark shadows under the eyes and redness from a tan, no pale skin and dull lips. Each preset is unique – just choose your own!
1. GRAY TONES PRESET


Photos and Instagram ribbons in gray tones always look stylish. But what about the skin? Often, many people forget to think about it and we see greenish or blue skin tones. This preset is a real salvation for lovers of gray photos. Skin of any color with this preset will look great!
2. WARM SUNSET MOBILE PRESET


On the contrary, do you like warm colors, as if a photograph was taken in the rays of the setting sun? Then this preset is for you! With it, your skin will acquire a golden hue, and the environment will become warm!
3. SHINING SKIN PRESET


I forgot to use the highlighter, but do you want your skin to shine? This preset is for you! No oily sheen – only the radiance of luxury for your skin!
4. HI FASHION PRESET


Do you like muted tones, but do not like dull skin? We thought about that too! This fashion preset will transform your photo in two clicks! The effect of film photography without harming the skin.
5. PORTRAIT PRESET


A delicate caramel preset will smooth out irregularities on the skin and make your portrait irresistible!
6. BEIGE INSTA FASHION PRESET


This preset is a real salvation for blondes! The skin will remain light, but will acquire an attractive tone. The hair will remain irresistible!
7. FASHION LOOK PRESET


And this free preset is for those beauties who by nature have dark skin. We only add a little shine!
8. CONTRAST ACCENT PRESET


Not all portraits should be gentle! This preset is especially for trendy rebels. Contrasting skin, hair and accessories will definitely not leave you invisible.
9. TANED SKIN PRESET


Try this preset on your skin and HE won't resist. Seductive caramel shades of tan are perfectly combined with white sheets. It's not necessary to put it in the feed, but the person for whom you took this photo will definitely appreciate it!
10. SMOOTH SKIN PRESET


With this preset, your skin will become velvety smooth, as if you had just left the salon. And of course, we added a little tone!
11. SUNSET AT PEACE PRESET


A beautiful contrasting preset that darkens your surroundings and highlights the skin. Ideal for evening photos!
12. BRONZE LEATHER PRESET


Do you dream of brozen skin like the Kardashian family? Catch this free preset!
13. PRESET Bitter CHOCOLATE


Awesome chocolate preset will not leave you indifferent. Warm and tart photos tell a lot about you.
14. BEACH TIME PRESET


A perfect tan, even on the first day of vacation, will give your skin this preset.
By the way, if you are going to share photos from your holidays, look at other collections that we have prepared specifically for this occasion.