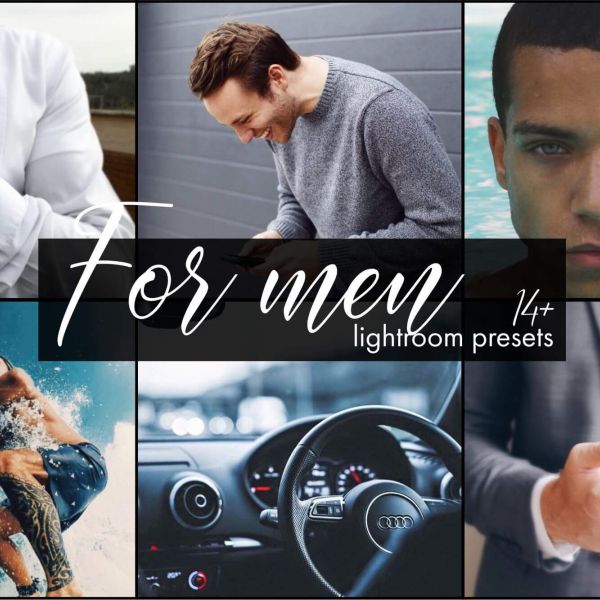 14 mens presets for Instagram
Beautybloggers, young moms, fitness girls – it seems that for men there is simply no place on Instagram! We don't think so and want to help you transform your photos with these free lightroom presets. And let millions see you!
1. CHILL – DARK PRESET


A luxurious dark preset with a masculine character. Perfectly accentuate any texture of the fabric, and light skin tone will add to your skin. Your photos are waiting for him!
2. O8 PRESET


Muted dark gold will create a mood in the style of Gatsby. No glamor, only luxury.
3. COZY LIGHT PRESET


A very atmospheric preset in dark colors. Cozy, but at the same time mysterious. By the way, it is perfect not only for banquet photos, but also for home look.
4. FRINEDSHIP PRESET


With this preset your photos will be like a breath of fresh frosty air in the feed! Brutal blue is suitable not only for winter photos. It will perfectly decorate your entire ribbon.
5. BRUGES WB PRESET


Get to the bottom in Bruges will work anywhere in the world with this preset. Calm and restrained, he is suitable for your masculine character.
6. LANDSCAPE PRESET


And this preset is specially for photos from your travels! We focused a little on the sky, try it on your photos!
7. BUSINESS CLASS – PRESET


This preset will transfer you to business class in two clicks. Deep black + restrained white=the secret of success of any men's blog. Nothing extra!
8. PRESET IN GOLDEN TONES


Are not you afraid to be sensual? Then this preset is for you! Golden light and light retro effect will add tenderness and chic to your photos.
9. MOVIE PRESET FOR PHONE


Aged and strong as good whiskey this preset is suitable for real men's photos!
10. PRESET FOR FLEETHERS


This preset will help to tighten white and you can share photos of your breakfast or desktop.
11. PRESET MYSTERIOUS FOREST


This preset will add mystery to any forest, and you will add the severity of the Norwegian lumberjack. Try it 🙂
12. GRUNGE PRESET


A very cool preset for city photos. A lot of deep gray and metal. If you're a fan of wet asphalt, this preset is for you!
13. FEEL AMAZING FROM @ 2ADHAMM


We could not help but share a preset from a real macho. This preset is good for photographs in any season, and its colors are quite universal, so no one will guess that the photo was edited.
14. WARM FRENCH PRESET


A warm preset with a slight haze will surely surprise your subscribers!
This collection was created by men for men! Do not forget that the same girl sits for hours on your Instagram page, so let her have something to see!